Today's guest post comes from Ashley from Faithfully Planted.
Find the original post here!
What are date night questions?
Date night questions for couples are specific, intentional questions that you ask one another in order to stimulate deep, connecting conversation. These are questions that bring up important topics for couples to discuss that may not come up organically. Their intent is to help foster connection and intimacy and to help couples continue to be students of their spouses.
You likely speak to and communicate with your spouse regularly, but often the topics are practical and mundane. We rarely start discussing our deepest fears or desires without first being prompted. But these things are so important for us to continue to discuss with our spouses.
Date night questions help us to keep a gauge on our relationships, how we're loving one another well and what is going on in the deepest parts of our hearts. This is what keeps the connection deep and strong in marriage.
You cannot have a connection without vulnerability and exposure.
RELATED: How to Have a Meaningful Date Night
So, how do you use these date night questions for couples?
That is entirely up to you! You can do just one per date night or plow through 10-20 if you want to.
Personally, my husband and I go through about 5-ish questions on any given date night.
With each question, one person asks the other, lets them talk and then you both follow the conversation that flows from the answer. Once that line of conversation ends, you reverse and the other person asks you the same question. We are intentional about making sure each person gets to answer, even if we get off on a tangent.
We mark our place and continue with the list on our next date. The conversations that stem from these questions allow us to learn about the other person's heart, to laugh and to feel the same excitement & intimacy we felt when we were dating.
Date night questions are a simple way to take your conversations to the next level and connect deeply as a couple.
So, here is your list of questions to encourage your relationship and help you to connect with one another!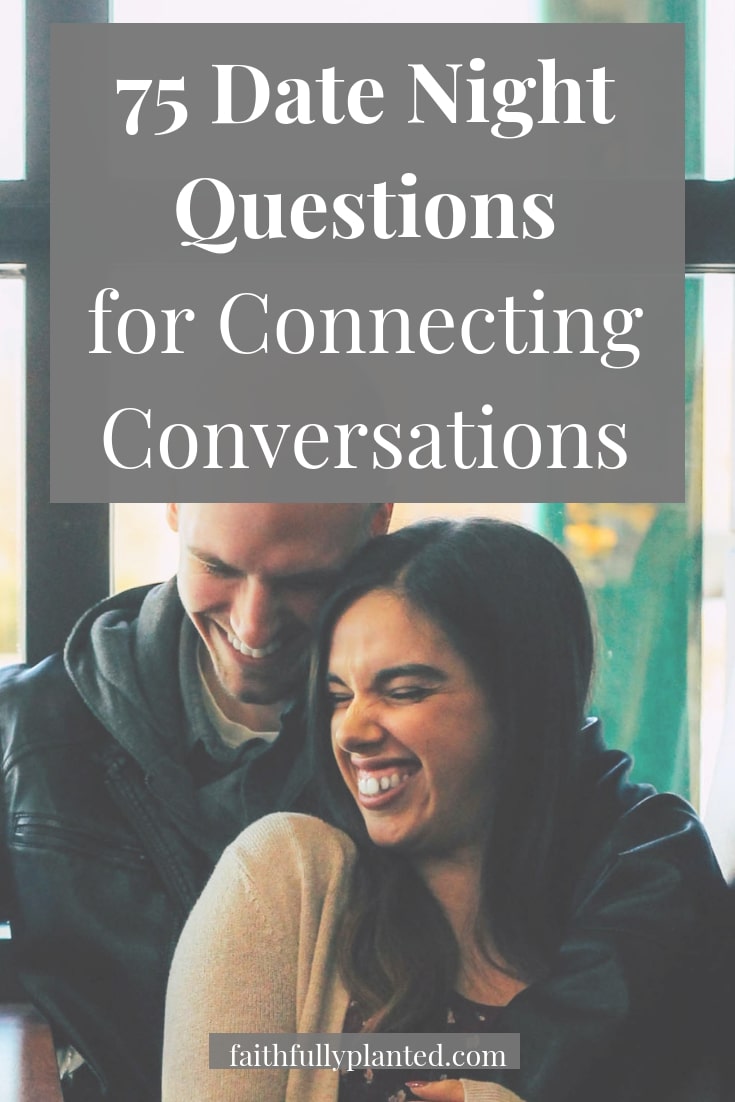 75 Date Night Questions for Couples
What is one thing I did that made you feel loved this week?

What do you envision our life looking like in 10 years?

If we had unlimited funds for 1 vacation, where would we go?

What is one odd thing about me that you find endearing?

What is your favorite memory from the beginning of our relation-




ship?

What accomplishment in your life are you most proud of?

If you could eat only one treat forever that wouldn't affect your

health, what would it be?

What is your favorite memory from our wedding day?

What is one thing your parents taught you that you really appre

ciate now?

If you had a whole day of no work and no responsibilities, what

would that ideal day look like?

What is your favorite thing about your job?

What is something you've learned during your quiet time this week?

How did you know you wanted to marry me?

When did you first realize you loved me?

Who is someone who inspired you as a kid or teenager?

What is one area of your life that you would like to grow in?

What Is one area that you have seen me grow in since we have been




together?

What is one activity or date we've been on that you really enjoyed?

Do you remember our first kiss? What details can you recall?

What do you view as my greatest strength?

What is something you really miss about your childhood?

When was the last time you were moved to tears

?

What do you think our greatest strength as a couple is?

What is your favorite season and why?

What is your favorite place that you have visited or traveled to?

Do you believe in soulmates? Why or why not?

What were some of your favorite childhood TV shows?

What is a book you've read that really impacted your life?

If you didn't have to work for money, how would you spend your time?

What is your earliest vivid memory?

What is one positive thing you learned about marriage & relationships from your parents?

What is one thing about me that you've chosen to accept instead of fighting me on?

What is your favorite way for me to show you I love you?

What is one skill you don't have no but have always wanted to learn?

Do you see any areas w/ family relationships that we need to create boundaries in?

How do you want to celebrate important dates in our relationship, such as anniversaries, birthdays, etc.?

What is one thing I can do to help you be in the mood to be intimate? How

would you like me to initiate sex?

Is there anything about how we currently handle our money that you would like to change or improve?

If/when I make you angry or upset, how would you like me to approach you?

What is one way we could improve our conflict resolution skills?

How would you like me to show you that I am paying attention to you?

If you could only pick 5 words to describe me to someone who has never met me, what would they be?

What is one unpopular opinion that you have?

What was your favorite class or classes in college? What did you love about them?

What is one of the best gifts you've ever been given?

If you could pick an actor/actress to play you in a movie about your life, who would it be?

What are the 3 happiest moments of your life?

What is something I do that makes you feel respected?

Did your family have any traditions that you want to continue in our family?

If you could start a foundation to combat one cause, what would it be?

What is one thing you'd like to change or overcome this year? If you already started on a goal, have you made any progress?

Identify a good marriage you've seen in your life. What made it a good marriage?

If you could choose any era or time period to have lived in, which would it be and why?

In what circumstances do you feel closest to me?

Describe a life lesson you've learned because of a mistake you made.

What are your expectations about how our life will look if we choose to have children?

What is a dream or recurring dream you remember very vividly?

How do you expect me to act when we are with groups of people? How much attention do you expect from me?

If you could be famous for something, what would you want it to be?

What dating experience before ours had the biggest impact on how you view relationships?

Are there traits you have that you wish you could change about yourself?

If I could read your mind, is there anything you'd be worried or anxious for me to hear?

What area or areas of your life do you feel not understood or heard?

Describe a time you overcame an anxiety or fear and had a wonderful experience because of it.

What is the most adventurous thing you've ever done?

When was the last time you tried something new?

What is one thing about our future together that you are really looking forward to?

Think about the Patronuses from Harry Potter: what memory do you believe would be strong enough to produce yours?

Love aside, what is your favorite part about being married/having a life partner?

What do you value most in your friendships?

What pieces of advice would you give to your teenage self?

What is one thing you want us to do more of together?

If you could be immediately great at an Olympic sport, what would it be?

When browsing a bookstore, what section do you gravitate to?

What is the most dangerous situation that you have survived?
Phew! That's a lot of questions. But my husband and I use these all the time and I wanted to get as many of them into your hands as I could. I know they will bless your marriage as well.
Friend, I am praying these date night questions bring connection, depth and some laughter to your relationship.